Spicy Tempeh is a great addition to Caesar salad, wraps, tacos, spaghetti,  stir-fry, Buddha bowls, pizza, cornbread, grits…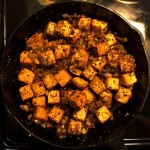 1/4 cup olive oil
1 pound tempeh, cubed
1 onion, diced
6 cloves garlic, minced
2 tablespoons crushed red chiles
1 tablespoon ground cayenne or other ground chile
1 teaspoon ground cumin
2 tablespoons dried oregano
1/4 cup tamari
1. Warm oil in large skillet over medium heat.  Add tempeh and fry till beginning to turn brown. Stir frequently so tempeh cooks evenly.
2. Add onion, garlic, crushed red chiles, cayenne, cumin, and oregano and mix well.
3. Continue frying until tempeh is golden brown. Stir frequently, flipping tempeh so all sides brown.
4. Add tamari and mix well. Remove from heat.
Yield: about 4 servings