One-dish meals go a long way back, as illustrated by this classic from northern Africa. Vegetables, grains, and legumes snuggle in a clay pot, ready for you and some friends to join them. Have some pita and hummus on the side, a few olives, and don't forget the harissa.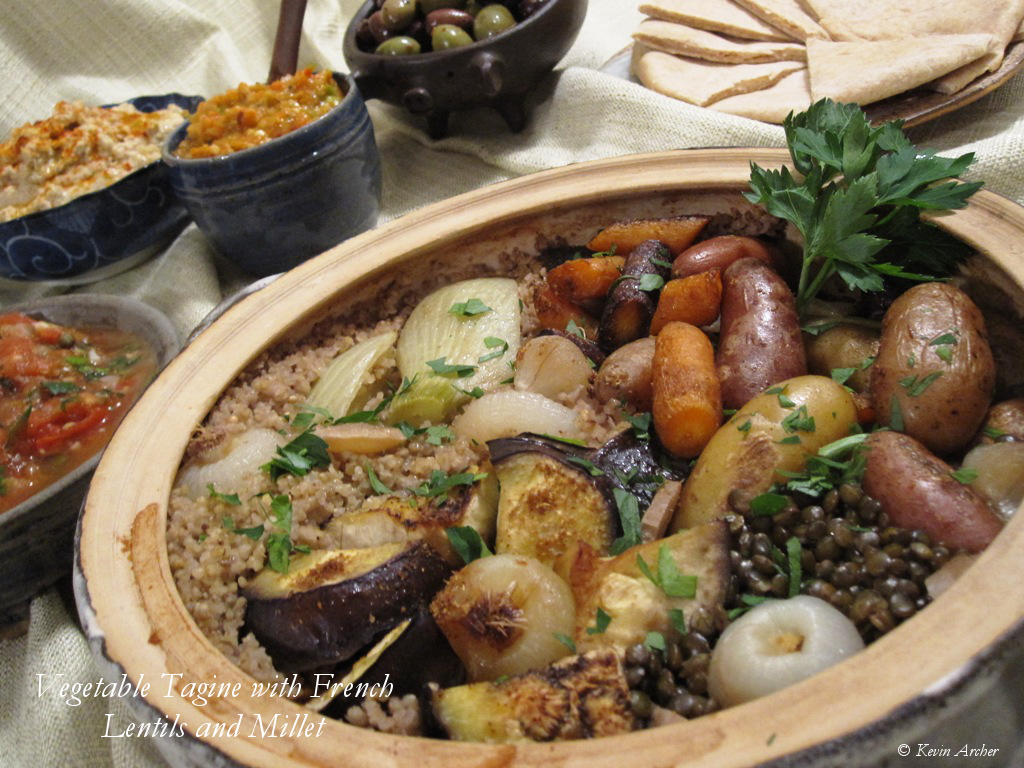 2 1/2 cups vegetable stock
2 tablespoons olive oil
4 cippolini onions, blanched and peeled
2 carrots, battonet cut
2 small fennel bulbs, halved
1 eggplant, large dice or quartered slices
1/2 pound fingerling potatoes
1/2 cup lentils
1/2 cup millet
1/2 inches ginger, peeled and sliced
2 cloves garlic, blanched, unpeeled
1 tablespoon tabil (recipe below)
1/2 teaspoon sea salt
parsley, chopped
1. Bring stock to a simmer and keep covered on low heat.
2. Warm the oil in a cast iron skillet over medium heat.
3. Successively saute all the vegetables until they are nicely brown. Do not cook them until done.
4. Arrange vegetables in the tagine or casserole dish as desired. Place the millet in a portion of–or throughout–the tagine. Place the lentils likewise.
5. Place ginger slices throughout the tagine.
6. Sprinkle with tabil and sea salt. Pour stock over all.
7. Cover and bake at 425 for 45 minutes, or until all vegetables are tender.
8. Remove from oven and garnish with parsley or other fresh herbs.
Yield: 4 Servings
Tabil
3 tablespoons coriander seeds
1 tablespoons cumin seeds
1 tablespoon caraway seeds
1/2 tablespoon crushed red chile
1/2 teaspoon garlic powder
1. Mix all ingredients, using blender or mortar and pestle.
2. Place the mixture in a glass jar and seal tightly. Store in a cool, dark place for up to 3 months.
Yield: 1/4 cup