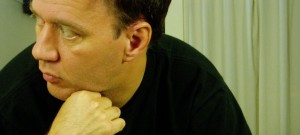 I am a multi-media artist focusing on free thought, fairness, and social justice. Or, if you prefer, I am an independent thinker practicing the fine art of dissent.
I am the author of In Lieu of Heaven, a novel which explores the character of the biblical god and presents a good argument for his dismissal. I have decades of experience as a public speaker and performer, in venues ranging from public schools and churches to honky tonks and art festivals.
Currently, I lead Peace Meal Supper Club™, a series of fine dining events focused on socially progressive themes. Through the use of multiple media forms–word, food, music, and film—these immersive events explore the ethical impact of our eating choices.
I have worked as culinary director, executive chef, and general manager at several landmark restaurants across the country. I am a frequent presenter at festivals throughout the eastern US–um, when there is no pandemic afoot. YES! Magazine includes me among their "Chefs We Love."
I also run a small organic farm in Woodford County, Kentucky, where I grow culinary herbs and produce.